10 Top LMS for training employees to empower your employees with the knowledge to do their job. Organizing that knowledge, making it accessible and engaging, and tracking progress are challenges that, if left unsolved, will leave your employees ill-trained.
Learning management systems (LMS) are platforms used by organizations of all backgrounds and sizes to prepare employees for the work they're doing today and the work they may be promoted to tomorrow. Every LMS brings different strengths to the table, making it difficult to decide which is the best option for your organization and your employees.
In this guide, we've worked to simplify the selection process by compiling a list of the best employee training LMS solutions, focusing on affordability, ease of use, administrative features, and how these tools actively incentivize employees to move forward on their training paths.

Before we get into the details about each of these top LMS solutions, here are the key things to know about learning management systems for employee training:
Customization: While most learning management systems come equipped with prebuilt courses, it's worth looking for a tool that allows you to create and custom-build courses that fit your organization's needs.
Administration Tools: LMS solutions should include admin tools to give your HR and L&D teams visibility into how individuals, teams, and the organization are progressing through training programs.
Achievements: Employees may need certifications, nano degree opportunities, and other rewards for incentives to complete training programs.
Sandbox Environments: For industry-specific employee training requirements, like product training, Appsembler offers product sandboxes and other tools to prepare employees for this kind of work.
Customer Support: Implementing an LMS solution can be tricky, especially if your team has limited technical knowledge; searching for the right tool should focus on finding vendors with strong customer support.
How to Evaluate Learning Management Systems for Training Your Employees
Here are the key things to consider when evaluating learning management systems for employee training:
Usability and Experience
Employees are more likely to actively engage with LMS training content if the tool is easy to use and courses are designed in an engaging format. Pay close attention to customer reviews of the user interface, looking for any comments about an outdated or difficult-to-navigate product.
Additionally, look for tools that focus on unique and interesting learner experiences, especially if courses are available in different formats and with different incentives. For example, some LMS solutions provide gamification features, such as certifications and badges, that are more likely to keep users engaged.
Course Creation
Your HR and/or learning and development team can greatly benefit from a tool that allows them to create custom courses for employee learning initiatives. However, not all LMS solutions include course creation capabilities, and even the ones that do are not always intuitive to use. When selecting an LMS with course creation features, be sure to determine if the course creator supports low-code/no-code, drag-and-drop capabilities, and other features to smooth out the course creation process.
Performance Measurement and Assessment
Learning administrators should also prioritize LMS solutions that can concretely measure learner performance at an individual and group level. Dashboards, analytics, reports, and built-in exams and quizzes that can be filtered to specific metrics or learning goals are particularly helpful.
Solutions that allow users to assess their learning experiences also provide qualitative evidence of how learning programs are going and how they should be pivoted in the future.
Cost
Learning management systems and employee training courses come at a variety of price points. Some even have free versions for up to a certain number of learners or courses, not to mention, that there is always the option to build out your own courses and features on a free, open-source platform.
If affordability is a top priority in your LMS search, closely read the differences between different pricing tiers and packages, making sure that the product you select not only meets your budgetary requirements but includes all of the features your team requires for a successful employee training program. Be sure to keep future growth in mind as well to avoid having to switch platforms in the future.
10 Top Learning Management Systems for Training Employees
1. Appsembler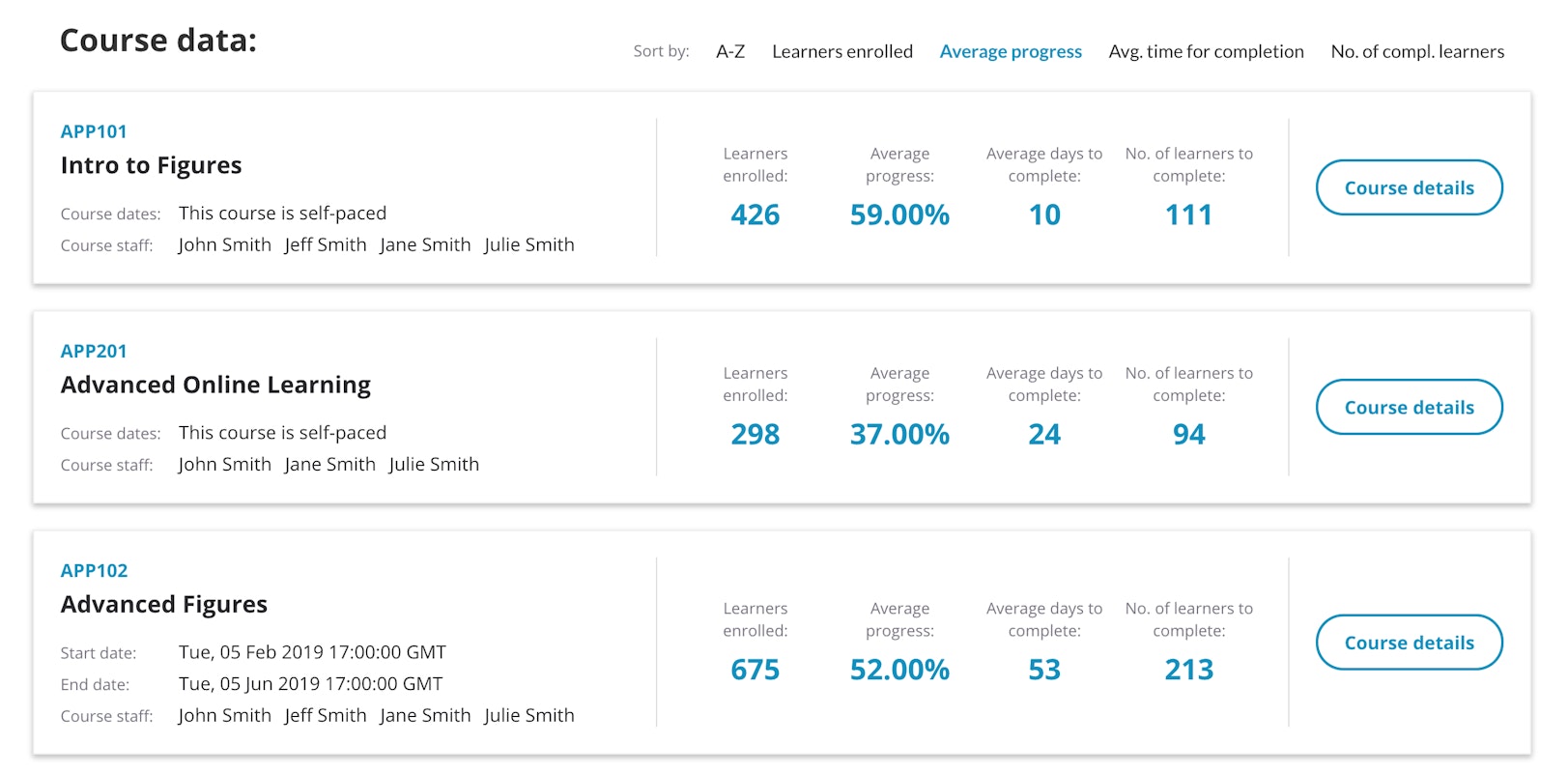 Rating: 4.9/5 (G2)
Key Features:
Course authoring tools and features
Managed hosting and guided onboarding
Admin-level training and analytics and reports
Course completion certificates
Integrations through Learning Tools Interoperability (LTI) and XBlocks
Appsembler is the leading employee training platform, combining traditional LMS capabilities with advanced features like training labs, sandboxes, and other tools that make it possible to develop specialized courses for employees of varying backgrounds and technical skill levels.
Appsembler's Tahoe platform is built on the Open edX open-source learning platform, which makes it possible to deliver superior course authoring and scalability compared to other LMS platforms. Pair that with excellent customer service and advanced analytics, and you have an employee training program that's custom-built for your organization and delivers a measurable return!
Unlike many other employee-training-specific LMS solutions, Appsembler also offers dedicated tooling for software training through its Virtual Labs for hands-on learning experiences. To sum it up, Appsembler can't be beat on customization, scalability, and customer support, which is why it tops this list (that, and the platform's G2 reviews).
It also helps that Appsembler is one of few tools in the space with truly transparent pricing. No hidden fees, setup costs, or separate hosting payments. You'll find three package options – Starter, Pro, and Premium – with the Starter plan pricing starting at $500 monthly.
2. TalentLMS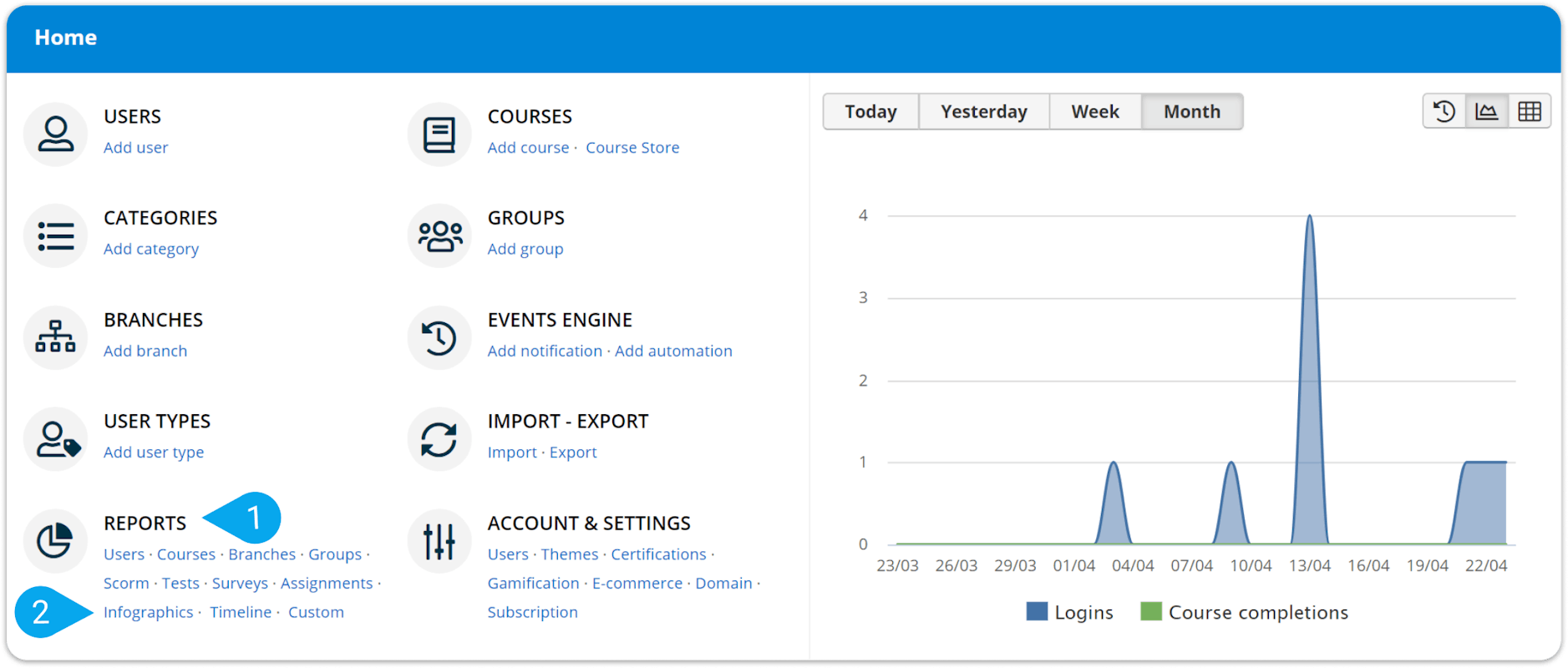 Rating: 4.6/5 (G2)
Key Features:
Task automation for course grading and assignments
Course creation
Gamification with points, badges, and leaderboards
Customizable dashboards and reports
Built-in videoconferencing for hybrid and online learning
TalentLMS is an online training solution that is primarily targeted at generalized employee training as well as specialized training paths like sales, compliance, and industry-specific training. Many users select TalentLMS for its intuitive user interface, affordable and flexible subscription plans, and customizable course creation and certification tools.
TalentLMS is known as one of the more affordable solutions. Pricing for TalentLMS is divided into five main plan options: Starter, Basic, Plus, Premium, and Enterprise. The Starter plan is priced at $69 per month billed annually or $89 billed monthly and can be used by up to 40 users. For additional pricing and tooling flexibility, users have the option to select a monthly or yearly subscription plan and either a Standard or an Active plan, with Active pricing based on how many users log in each month.
While pricing is a pro, some users have reported that TalentLMS does not have enough features for their use cases.
3. 360Learning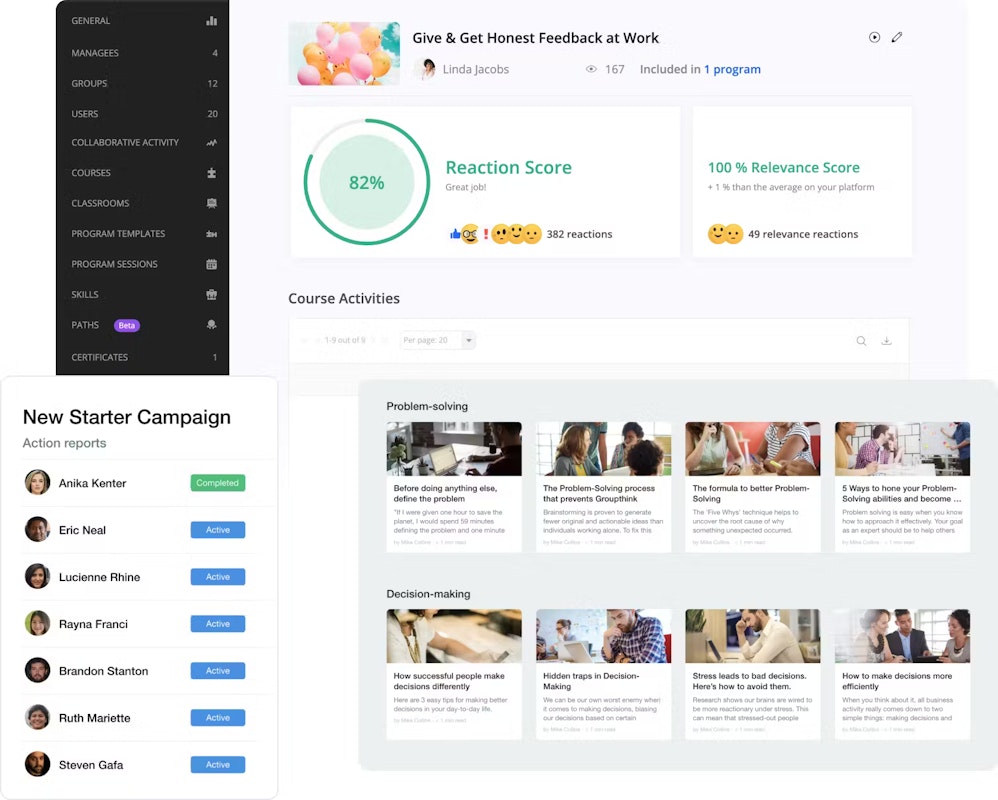 Rating: 4.6/5 (G2)
Key Features:
Syncing capabilities with common HCM and HRIS platforms
Native and API-driven workflow integrations
Automated user management and dynamic user settings
Permissions, groups, and nested groups
Custom fields for more targeted reporting, tracking, and assignments
360Learning is a learning management and course creation tool that emphasizes automation and integration with various business applications, including a number of HR applications and systems. The tool offers extensive administrative capabilities, allowing business leaders to set up specialized user roles, groups, and secure links to control course assignments and creation. Though helpful, the interface for administrators has been described as complex by some users, potentially introducing a sharp learning curve.
Despite the administrator interface, 360Learning offers a variety of setup features, and they are noted as being easy to implement.
This is also a great solution for global employee training and training development, as the platform supports course translation and course design for more than 30 languages and dialects. Pricing for 360Learning is divided into Team and Business plan options, with Team starting at $8 per registered user per month for up to 100 users per month.
4. Adobe Learning Manager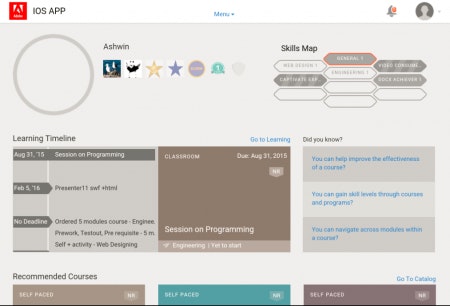 Rating: 4/5 (G2)
Key Features:
Mobile, web, and offline learning options
Gamification and social learning through points, certifications, and badges
More than 86,000 prebuilt course options for employee skilling
AI-powered content recommendations
Reporting and engagement score tracking
Adobe Learning Manager, previously called Adobe Captivate Prime, is an online learning platform that incorporates artificial intelligence and machine learning into its workflow management and course recommendation features. Adobe Learning Manager is known for its flexibility and customization options. Many customers go with this particular LMS option for its extensive content marketplace of relevant prebuilt courses as well as for its extensive, UX-driven gamification features.
Adobe Learning Manager packages can be purchased based on a fixed number of registered users or based on a nebulous number of monthly active users. For specific pricing information, prospective buyers will need to contact the Adobe sales team.
5. LearnWorlds LMS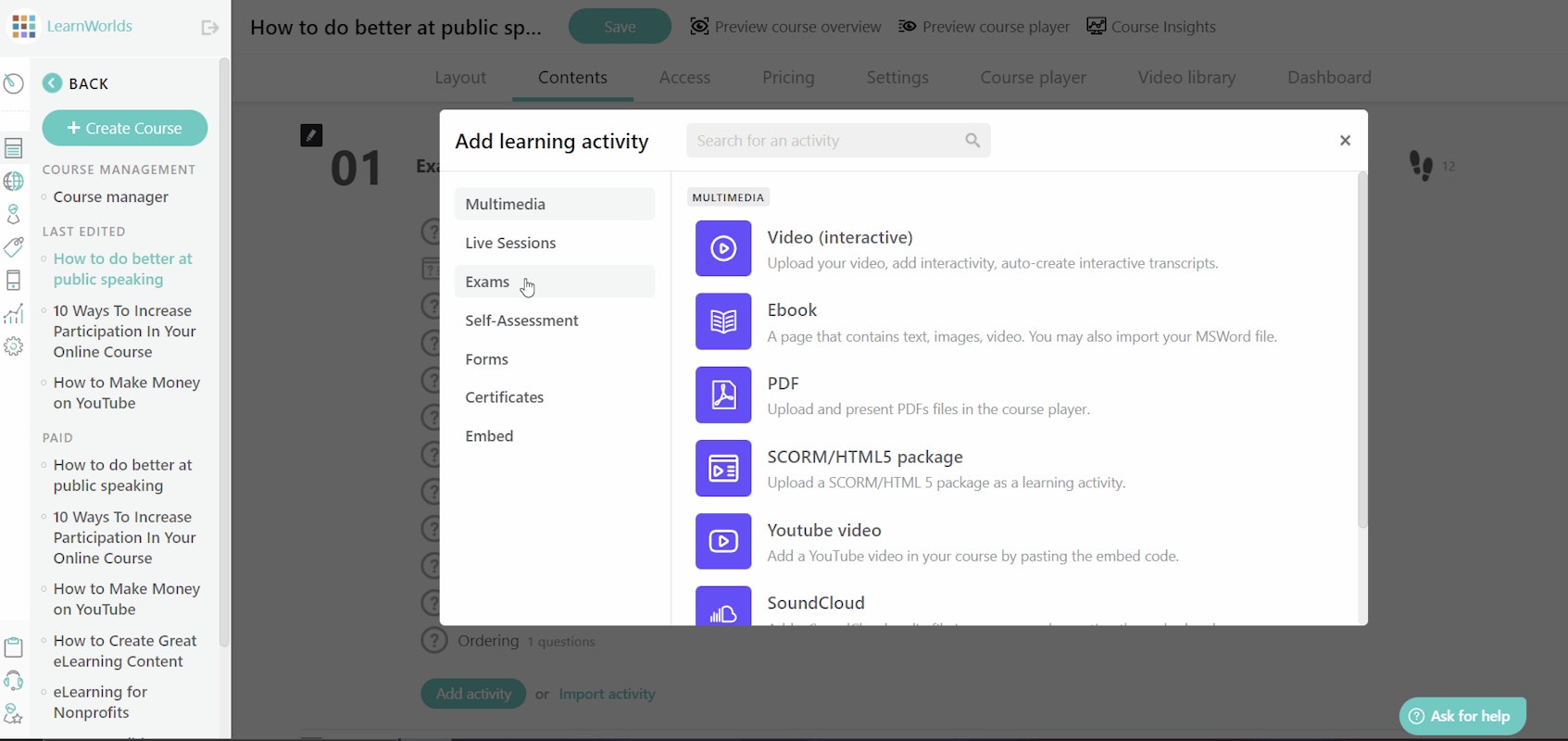 Rating: 4.7/5 (G2)
Key Features:
Course authoring tools
Surveys, quizzes, and exams for learner assessment
Shareable reports for tracking learner and content engagement
Role-based access controls and compliance features
More than 4,000 tool integrations
LearnWorlds LMS is a SCORM-compliant learning management system that is particularly useful for large and scaling workforces, as there is no user limit or per-user pricing structure for any LearnWorlds plans. Known for being user-friendly, it includes blended formats and options to match different learning styles, including videos with the ability to add text descriptors, session-driven learning, e-books, quizzes and exams, and self-reflection activities.
This LMS is available in four different plan options: Starter Pro Trainer, Learning Center, and Learning Center + Mobile App. The Starter plan costs $24 per month billed annually or $29 billed monthly and includes a $5 per-course charge. All other plans include unlimited free and paid courses.
While the platform itself is user-friendly, some users have said that customer support is not friendly.
6. Absorb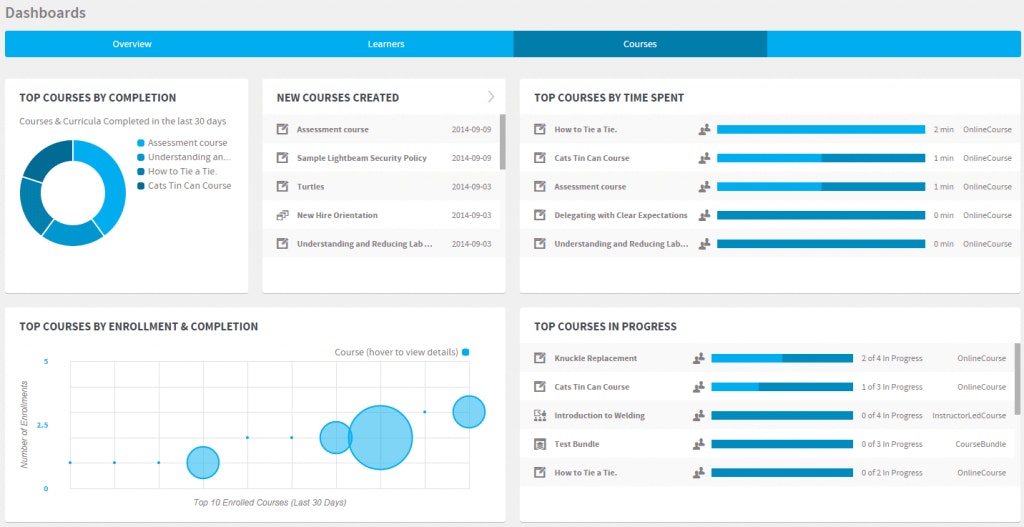 Rating: 4.6/5 (G2)
Key Features:
Rule-, AI-, and automation-driven administrative tools
Reporting and analytics dashboards
Observational checklists
LMS mobile app
Absorb Pinpoint with AI-powered search, labeling, and content summarization
Absorb LMS is a learning management system that uses artificial intelligence and strong administrative controls to improve the overall employee learning experience. Admin tools on this platform are particularly strong, giving business leaders advanced tracking tools, dashboards, and configurable analytics to monitor employee performance across courses and training goals.
But perhaps the most compelling feature of Absorb is Absorb Pinpoint, a specialized feature that uses AI and natural language processing to give users short summaries of longer courses, labeled and contextualized learning materials, and course search capabilities so they can skim or complete shorter spurts of relevant training within larger training programs. While it is compelling, Absorb has been described as having a complex setup process, delaying implementation time.
For pricing, interested users will need to contact Absorb directly.
7. Docebo Learn LMS
Rating: 4.4/5 (G2)
Key Features:
Generative-AI-powered tooling and customizability
Certifications and other gamification features
Content creation, management, and translation
Embedded learning capabilities in various business apps
Docebo mobile app and the ability to create your own learning app
Docebo Learn LMS is a specialized, AI-powered LMS platform that caters to the employee training needs of enterprises. The platform is highly customizable but with a UX/UI bend, giving administrators the ability to create courses and course pages with a drag-and-drop interface. The tool also comes equipped with Docebo Connect, an integration tool that makes it easy to connect the LMS with all kinds of office suite, service, project management, communication, and social media tools.
Docebo does not transparently list pricing information on its site, so prospective buyers will need to contact the company for that information. However, it's important to know that Docebo is targeted at enterprise-level organizations with "at least 300+ learners." This could be a reason customer support ratings are not as high as other platforms.
8. Blackboard Learn LMS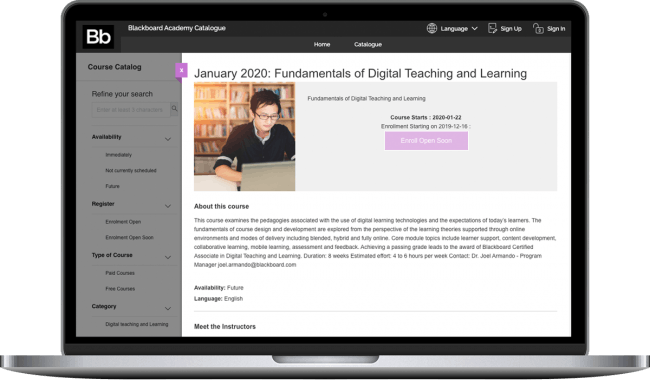 Rating: 3.9/5 (G2)
Key Features:
Originality scoring
Real-time data insights
Progress tracking tools for learners and administrators
AI Design Assistant for a generative-AI-driven course and test designs
Mobile app accessibility
Blackboard Learn, now part of the Anthology family of education and business tools, is primarily targeted at educational institutions but offers a number of useful features for employee training. For example, this tool comes with one of the most functional and user-friendly mobile apps for LMS, making it possible for users to complete their courses on the go with ease.
The tool also recently added an AI Design Assistant, through a partnership with Microsoft. This rounds out their already comprehensive set of features. This generative AI feature makes it possible for instructors and administrators to efficiently create courses, tests, and rubrics that make sense for their particular learners. Pricing information is available upon request.
This platform has been described by some as not being intuitive so interested users would benefit from a free trial and/or demo of the platform.
9. iSpring Learn
Rating: 4.6/5 (G2)
Key Features:
Spring Suite course creator and editor
Learning track development
Automatic course assignments and filters
Events calendar for live training, workshops, and meetings
Learner portal with gamification features like points, badges, and leaderboards
iSpring Learn is a learning management system with a wide range of features that equally support learners and administrators. It is one of the best LMS options not only for course creation but also for creating training paths, tracks, and course groups to meet the needs of different groups of learners. Administrators have granular user-level controls at their fingertips, and they also have strong reporting and performance appraisal features to aid them in creating and sticking to learner assessments.
While iSpring Learn is known for being easy to use, its feature sets are not as expansive as other services.
The iSpring Learn LMS is priced based on user counts of 100, 300, 500, or 1,000 users and two main plan groups: Start and Business. The lowest plan price is for the Start plan at 300 users, which costs $2.29 per user per month, billed annually. Users can also access more advanced features for course authoring if they choose to subscribe to the iSpring Suite.
10. D2L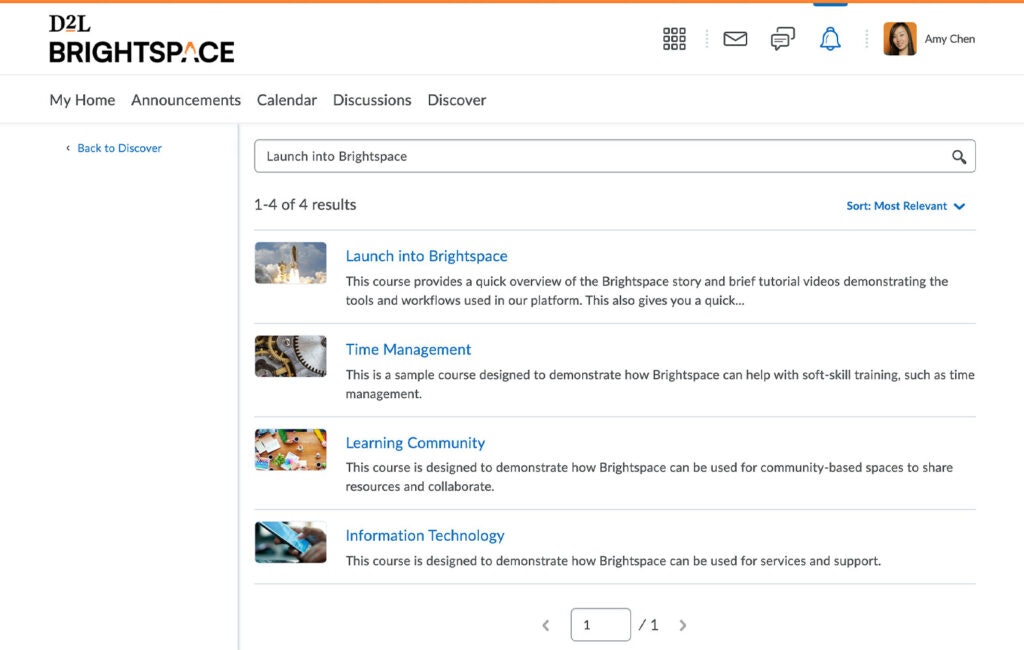 Rating: 4.4/5 (G2)
Key Features:
AI-supported skill mapping and pathways
Centralized learning analytics
Micro-credential and nano degree learning opportunities
Course authoring tools
Course customization by D2L experts
D2L for Business is an employee- and business-specific version of the D2L platform. It is a top-notch option for employers who want to engage employees with training programs that clearly connect to their growth goals and future promotion opportunities within the organization. One of D2L's most impressive features is its AI-driven tools that carefully map a user's skills to possible careers within the organization and then determine which courses are the best fit for that individual.
This platform appeals to users with a
This version of D2L comes in four different subscription package options: Basic, Standard, Professional, and Premium. Specific prices are not listed on the website, so prospective buyers must contact D2L directly.
Deliver Impactful Employee Training with Appsembler LMS
Among the leading LMS solutions for employee training, Appsembler manages to set itself apart with a clean and easy-to-use interface and a good balance of features for technical teams and developers as well as less technical learners. It is a platform that gives users access to the best aspects of Open edX open-source software, making it possible for administrators and business leaders to personalize their LMS, sandboxes, and product training at a granular level.
And if all of that is not enough, Appsembler consistently outperforms its competitors in customer reviews of its support resources. Interested in trying out Appsembler for yourself? Book a demo with Appsembler today.
Frequently Asked Questions
What are the essential features an LMS should have for effective Employee Training?
User-Friendly Course Creation: The ability to easily create and update training courses, including uploading content, assessments, and multimedia.
Tracking and Reporting: Robust tracking capabilities to monitor employee progress, completion rates, and performance metrics.
Content Differentiation: The LMS should support diverse content formats like videos, documents, quizzes, and webinars to cater to different learning preferences.
Integration Capabilities: The LMS should seamlessly integrate with other HR or software systems, such as HRIS and CRM, for data exchange and efficiency.
Security Measures: Strong security features to protect sensitive training data and ensure compliance with data privacy regulations.
How important is user-friendly navigation and interface design in an LMS for employee training?
User-friendly navigation and interface design are critically important because they enhance user engagement and motivation. Intuitive navigation reduces the learning curve for employees, allowing them to focus on the content, rather than struggling to learn the platform.
A well-designed interface keeps users engaged with the content, motivating them to complete the course while actively learning. It also encourages continuous learning by serving as a reference hub for future questions.
How do you effectively implement a Learning Management System?
Effective LMS implementation is a well-planned process that considers both the technical and user aspects to maximize its impact on employee training. This process involves:
Defining your training goals, target audience, and training content. Then creating a detailed implementation plan.
Choosing an LMS that aligns with your organization's needs, considering factors like scalability and user-friendliness.
Setting clear and measurable objectives for your training programs to track progress effectively.
Training administrators and end-users on how to use the LMS effectively, ensuring they understand its features and benefits.
Customizing the LMS to fit your organization's branding and specific training requirements.
Thoroughly testing the LMS and training content to identify and resolve any issues before rollout.
Providing ongoing support and maintenance to address user inquiries, technical glitches, and updates, ensuring the LMS remains effective and up-to-date.