In this comprehensive guide, we delve into a comparison of three leading virtual IT labs: Appsembler, CloudShare, and Instruqt. Each platform offers a unique approach to enhancing your team's development skills through immersive learning experiences. As we explore their features, pricing, ease of use, and integrations, you'll walk away knowing which platform best suits your organization's needs.
Key Takeaways
An important consideration is evaluating how you'll integrate your virtual IT lab with your LMS. You'll either want a platform that offers both or integrations to simplify that process.
Pricing models vary. From transparent monthly rates to usage-based pricing, understand what will work for your business long term.
Don't underestimate the importance of usability. You want a virtual IT lab with a low time-to-value that's intuitive, engaging, and speedy to implement.
Incentives and certifications are a notable feature that can vary across virtual IT labs. They keep your team motivated and help you track progress.
Now, let's dive in to discover which platform reigns supreme in the world of virtual IT labs.
Table of Contents
Overview: Cloudshare vs. Instruqt vs. Appsembler
CloudShare, Instruqt, and Appsembler have similarities and differences. Here are the key aspects of these platforms that you must know:
| | | | |
| --- | --- | --- | --- |
| | Appsembler | CloudShare | Instruqt |
| Platform | Offers a Learning Management System (LMS) that is integrated with a Virtual IT lab. | Only offers Virtual IT labs. | Only offers Virtual IT labs |
| G2 Rating | 4.9 | 4.6 | 4.9 |
| Pricing | Transparent, with zero hidden fees: $555/mo. Starter Plan$1,040mo. Premium Plan | Contact for a quote | Contact for a quote |
| Integrations | Offers a wide variety of API endpoints for endless integrations | Limited CRM & LTI integrations | Salesforce & LTI integrations available |
| Certifications | Awards trainees with branded certificates that recognize their achievements | Provides IT certifications | Provides IT certifications |
| Customer Support | Provides a dedicated customer success manager and customer support regardless of the plan you choose | Unknown | Unknown |
While all three platforms offer great Virtual IT lab platforms, Appsembler is the superior option if you want a truly comprehensive solution. Unlike CloudShare and Instruqt, which provide only virtual labs, Appsembler offers an LMS and Virtual IT Lab. Access to both allows you to provide users with theoretical learning and hands-on experience.
What is Appsembler?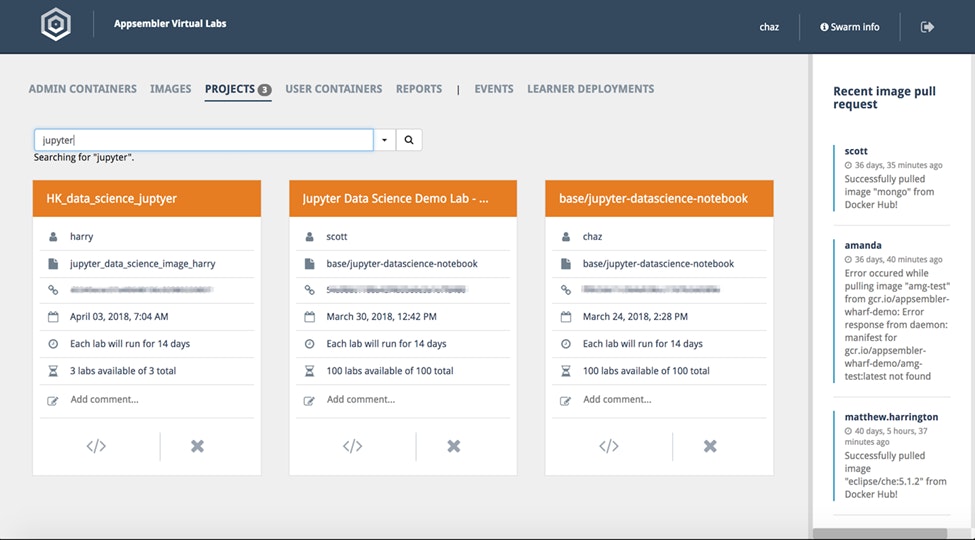 Rating: 4.9/5 (G2).
Appsembler is a much more comprehensive virtual learning solution than CloudShare and Instruqt. The other two systems provide only virtual labs, while Appsembler offers a robust learning management system (Tahoe) and Virtual Labs.
You can create, deliver, and manage educational content, training materials, and courses with an LMS. You can also assess and track trainees' progress to ensure they fully experience your training materials and receive value.
Appsembler offers the ability to embed Virtual Labs to provide hands-on experience that allows trainees to apply what they've learned to real-world scenarios. Virtual Labs also allow SaaS businesses to speed up product adoption and onboarding by providing hands-on software experiences that show users your product's value and benefits.
ENJOYING THIS ARTICLE?
Discover how you can accelerate your business with Appsembler
Get Started
What is CloudShare?
Rating: 4.6/5 (G2).
CloudShare offers a cloud-based virtual IT lab where developers can test digital products and give users hands-on software experiences and trainings. The simplicity of CloudShare makes it easy to use, so anyone can use it to deploy and manage virtual machines.
When asked what they liked most about CloudShare, an anonymous, validated reviewer said:
"The user-friendly interface reduces the amount of time trainers have to take helping their learners to access the training software."
While many reviewers agreed, verified reviewer Matt E. shares:
"I would say sometimes it can be tough to edit existing environments."
This feedback seems popular among reviewers, with other users expressing a desire for more "flexible options".
What is Instruqt?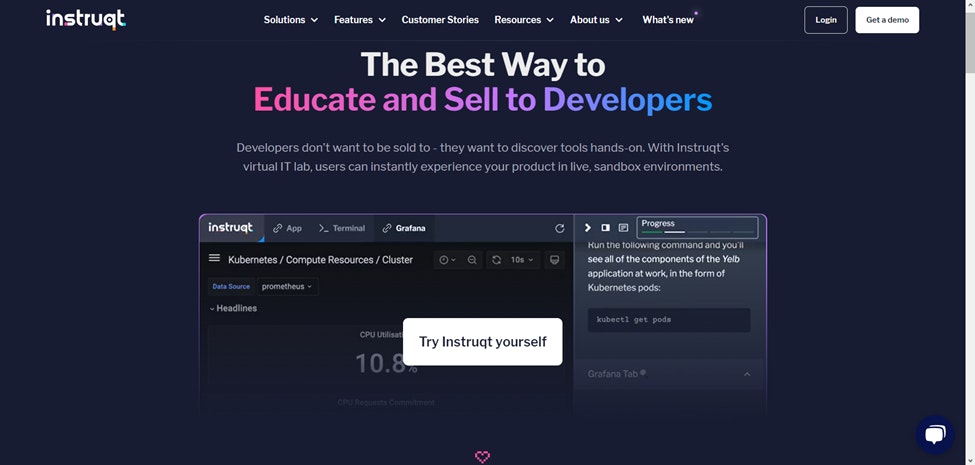 Rating: 4.9/5 (G2).
Instruqt provides a hands-on virtual IT lab, much like CloudShare. You can use the virtual lab to showcase your digital product or demonstrate features to get customer buy-in. Users can interact with your software in the virtual sandboxed environment without affecting your actual product.
Users of Instruqt, like Jason S., sing its praises for "mak[ing] creating and maintaining tutorials a breeze".
While that seems to be a consensus, users like Greg L. express disappointment with the clunky process of track development, stating a desire for "more support for centralized logging".
Analytics Comparison
Appsembler, CloudShare, and Instruqt all offer analytics and reporting for monitoring trainees' progress. Below is a breakdown of how the analytics feature differs between each product.
Appsembler
Appsembler provides real-time insights into the performance and progress of each person partaking in a training program or product demo.
With Appsembler's Figures feature, you can easily view the performance of your courses and students. Figures is an open-source application for Open edX users, made to monitor the number of course views, percentage of viewers fully or partially completing courses, and more. The insights will help identify if students find your courses engaging and valuable.
CloudShare
CloudShare lets you monitor trainees and demo users in real-time. Real-time monitoring enables you to keep an eye on user progress so you can provide relevant assistance to facilitate each user's journey to your desired outcome. Insights from the monitoring let you make data-driven decisions to optimize your training program or demo offering.
Instruqt
Instruqt simplifies user tracking and reporting. Tracking user interactions will provide insights into each user's course progress, completion, and performance. The insights will reveal each learner's strengths and areas for improvement.
Integrations Comparison
Integrations enhance your learners' experience and push them to apply their learnings in new ways. With these tools, students will better achieve mastery of the subject and have a better grasp of applying their knowledge.
Appsembler
Appsembler offers multiple pre-built integrations out-of-the-box, including a Zoom integration for communication and Illumidesk and SCORM for auto-grading.
If you have a system that isn't on Appsembler's integration list, you can still integrate it. Just use Appsembler's hassle-free APIs, SSO, LTI, or Business Intelligence Connector to integrate it with your workflows and enterprise systems. You can handle the integration yourself or let Appsembler's professional services team do it.
CloudShare
CloudShare offers fast and hassle-free integration with solutions like Slack, Google, Docebo, etc. The Slack integration is especially useful because it improves team member collaboration and user communication. You can also integrate CloudShare with various Virtual IT Labs, LMS, and many more solutions with its RESTful API.
Instruqt
Instruqt's LTI (Learning Tools Interoperability) simplifies integrating the solution with your preferred Virtual IT Lab. Integrating with an LMS makes the virtual lab a more comprehensive training solution. Instruqt also allows integrations with solutions such as CRMs like HubSpot, via Instruqt's APIs, webhooks, or embeddable tracks.
Ease of Use Comparison
While in a Virtual IT Lab, users should be learning and applying new content. Selecting an interface that is intuitive will directly impact learner performance and motivation. At the same time, you will want to consider the amount of setup and learning that must be done by administrators as well. Virtual IT Labs are meant to enhance learning, not create roadblocks for team members or students.
Appsembler
"The customer success managers are flexible and are always able to problem solve. Ease of use is a great point. Control over users is something that we love, where we are able to see statistics and progress of each enrolled student." – Nicholas Edward R, verified reviewer
Appsembler offers everything you need to onboard and experience value quickly. For starters, its user-friendly interface shortens the time to value. Its mobile compatibility allows users to choose when and how they learn. If you run into any trouble while navigating the tool, your assigned customer success manager and customer support team can help you get back on track quickly.
CloudShare
CloudShare is easy to set up and use, providing self-paced learning for learners. Setup is streamlined by the ability to build reusable blueprints for courses. Course tasks can be automated based on your preference to remove potential obstacles for learners as they progress through the course.
Instruqt
Instruqt has a user-friendly interface that offers ready-to-use templates. These templates come equipped with the tools and instructions needed to navigate the interface.
pricing Comparison
Virtual IT Lab pricing varies across platforms. Some offer upfront fees, while others are usage-based. Upfront fees are consistent and will not result in any surprises when your monthly invoice arrives. Usage-based platforms can sneak up on you, especially during heavy growth.
Appsembler
Appsembler charges no hidden fees or setup fees. You pay a transparent, flat rate for your preferred plan, and available monthly plans include the $500 Starter Plan, the $1,200 Pro Plan, and the $2,500 Premium Plan.
CloudShare
CloudShare charges a simple upfront rate with no surprise fees. However, their pricing isn't publicized. Each user gets a custom quote, and the quote will be based on your requested features. For example, you only need to pay for labs you use when you need them.
Instruqt
Instruqt offers usage-based pricing. You pay a monthly subscription fee that gives you access to all Instruqt features. While you pay for only what you use, increased usage allows you to hit pricing breakpoints that may give you a more efficient, yet higher, cost.
CloudShare vs. Instruqt vs. Appsembler: Which is Right for You?
A virtual IT lab is only valuable if it measurably improves your team's skills. Usability, ease of integration, and analytics are essential components of an effective training system, and only one of these platforms excels in all three: Appsembler.
Appsembler is the only comprehensive solution offering virtual IT labs with an integrated LMS. Combine that with dedicated customer support, a powerful API, and advanced analytics, now you have a training system that is set up to deliver a clear ROI on learning.
Speaking of ROI, Appsembler has the most transparent, predictable pricing. As your business grows, you'll more easily be able to manage costs.
Are you ready to set up product demos, virtual training, or sandbox environments for testing product ideas? If so, Appsembler has everything you need to exceed your goals with less effort and better results. See for yourself by contacting us today to request a free product demo.
Frequently Asked Questions
How Do You Choose the Right Virtual IT Lab?
Choosing the right Virtual IT Lab is a wildly independent decision based on many factors. When choosing, you will want to consider:

Pricing: What is your budget for a Virtual IT Lab?
Desired Features: What are the must-have features and functionalities of the Virtual IT Lab you are looking for?
Scalability: How will the Virtual IT Lab accommodate future growth in users, content, and cost?
Usability: How easily will your users be able to learn to navigate the Virtual IT Lab?
Integrations: Can the Virtual IT Lab work with your existing systems or systems you hope to use?
What Notable Integrations Are Supported By These Systems?
CloudShare: Offers fast and hassle-free integration with solutions like Slack, Google, Docebo, and more.
Instruqt: Integrates with CRMS solutions such as HubSpot via Instruqt's APIs, webhooks, or embeddable tracks.
Appsembler: Offers multiple pre-built integrations out-of-the-box, including Zoom, Illumidesk, and SCORM for auto-grading. Appsembler's hassle-free APIs, SSO, LTI, or Business Intelligence Connector offer the ability to integrate with systems not on the integration list.