With less demand for physical resources and increased user flexibility, it's no wonder why learning management systems (LMS) are the new go-to for online education and employee training. However, not at LMS's are equal, and choosing the right one can have lasting effects on the education and development of your learners.
In this detailed comparison, we examine three leading LMS platforms: Appsembler, Edunext, and Edly, delving into their features, integrations, pricing, and more. Through this guide, we'll empower you to decide which solution is the best fit for your organization.
Key Takeaways
Consider the importance of having an LMS built on the open-source Open edX platform. They have the advantage of being on an always-improving code base backed by an engaged developer community.
While an LMS alone is a powerful tool, pairing it with virtual labs to offer hands-on, experiential learning may be what your learners need to thrive.
Be sure to examine each LMS platform's integrations. A siloed learning system won't deliver the same value as one integrated with your tech stack.
Not all LMS platforms are priced the same. With varying models and degrees of transparency, you'll want to ensure that your LMS's pricing aligns with your organization's growth goals.
The quality of customer support is an often-overlooked but critically important factor in evaluating LMS platforms.
Table of Contents
Overview: Appsembler vs Edunext vs Edly
Appsembler
Edunext
Edly
Platform
Offers an LMS built on Open edX with integrated virtual labs
An online learning platform that works exclusively in the Open edX Studio platform.
Edly LMS runs on its proprietary authoring suite, Edly Studio, and offers custom Open edX development services.
G2 Rating
4.9
4.5 (1 review)
5 (1 review)
Pricing

Transparent, with zero hidden fees:
$500/mo Starter
$1,200/mo. Pro
$2,500/mo. Premium
Speak with a sales rep for an accurate quote.

Nimbus: $0 – $62/mo. Minimal features, with limited scalability & support.

Stratus: Starting at $25,000/yrOpen edX solutions for unlimited active learners

Cirus: Starting at $50,000/yrFully dedicated service for complex solutions.
Speak with a sales rep for an accurate quote.
Essentials: Starting at $275/mo. for up to 1,000 MAUs.

Elite: Starting at $300/mo. for up to 10,000 MAUs

Enterprise: Starting at $2,250/mo. for up to 100,000 MAUs

Integrations
Offers both pre-built integrations and powerful API endpoints.
Focuses its integrations on WordPress and Woocommerce.
Offers pre-built integrations for popular CRM & CMS tools and custom API solutions.
Certifications
Awards learners with branded certificates that recognize their achievements
Generate branded completion certificates.
Generate branded completion certificates.
Customer Support
Provides a dedicated customer success manager and customer support regardless of the plan you choose.
Robust documentation with a ticketing system is in place. No dedicated customer service representative.
Weekday support is available from 8-5 ET.
What is Appsembler?
Rating: 4.9/5 (G2).
Appsembler offers a far more comprehensive eLearning solution than Edunext and Edly. Its robust, all-in-one learning management system, Tahoe LMS, offers various, customizable training types that can be made to match your branding. Appsembler also provides access to analytics to provide insights into individual learner progress and the efficacy of educational content in yielding your desired results.
Appsembler's Key Features
Not all LMSs are built the same. At a high level, Appsembler leads the pack with responsive learning and analytics, making it easy to scale training and development in your organization. Its features are built to scale and keep your team engaged and learning, not just clicking through a slideshow.
Here are some of the ways Appsembler works to encourage structured learning:
Appsembler's platform is self-paced and interactive, meaning your team is doing more than flipping through slides.
Easily embed Virtual product sandboxes and training labs into your team's learning experience. Give your team real, hands-on training environments to fast-track their development.
The comprehensive and responsive LMS delivers immersive training experiences that work for your brand.
Access Appsembler anywhere with mobile access
Get detailed reporting and analytics on your team's development in real time.
Appsembler integrates your tech stack for sleek implementation.
Customizable training content and certificates help motivate learners to complete their coursework and look great with company branding.
Customer success managers and customer support are on call when you need them.
Check out what verified reviewer, Mike K has to say about us:
"Appsembler's multi-tenant Open edX platform is rock-solid. We have not experienced a single outage since our class began in Dec-18. Their support is very responsive. I typically get a response back within an hour. Overall, we are very happy with the system. Their branding and styling wrapper made setup a breeze."
What is Edunext?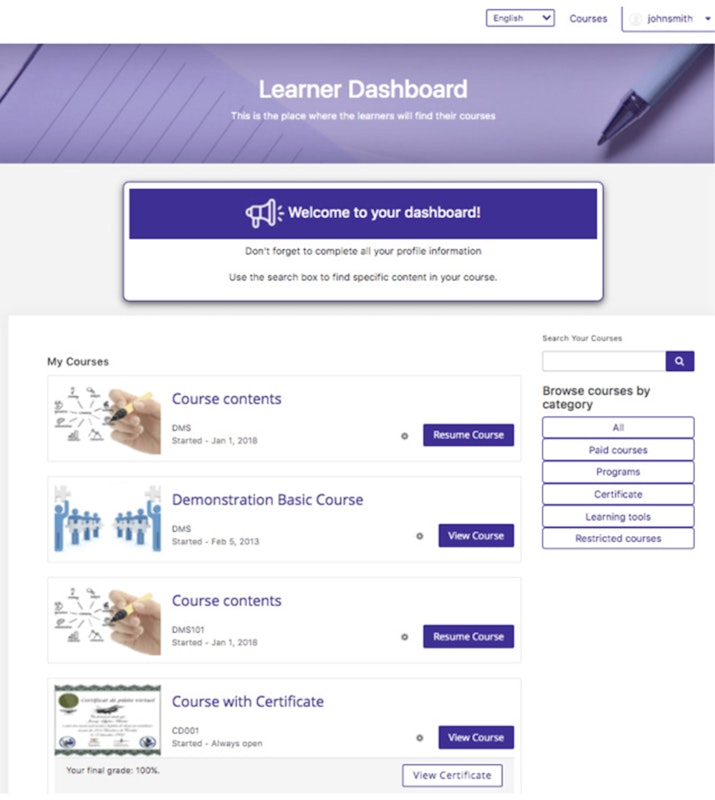 Rating: 4.5/5 (G2).
Edunext provides customized learning management systems powered by Open edX. This makes its learning platform fast, flexible, extensible, and user-friendly. They are also highly scalable to support your needs as you acquire more trainees.
The Edunext Control Center provides a clear view of everything happening within your LMS. Edunext offers WordPress and WooCommerce integrations for conveniently selling your educational content on your WordPress website. Overall, Edunext simplifies launching an online training platform and monetizing your educational content.
While Edunext is praised for its simplicity, users like Jitender S. bring awareness to its performance issues, stating, "That needs to be improved. Also, sometimes the app is not able to load data faster. It takes a bit time."
We'll caution that, as of this writing, Edunext has just one user review on G2. Learning from real-world user experiences is critical in evaluating if an LMS is right for you.
What is Edly?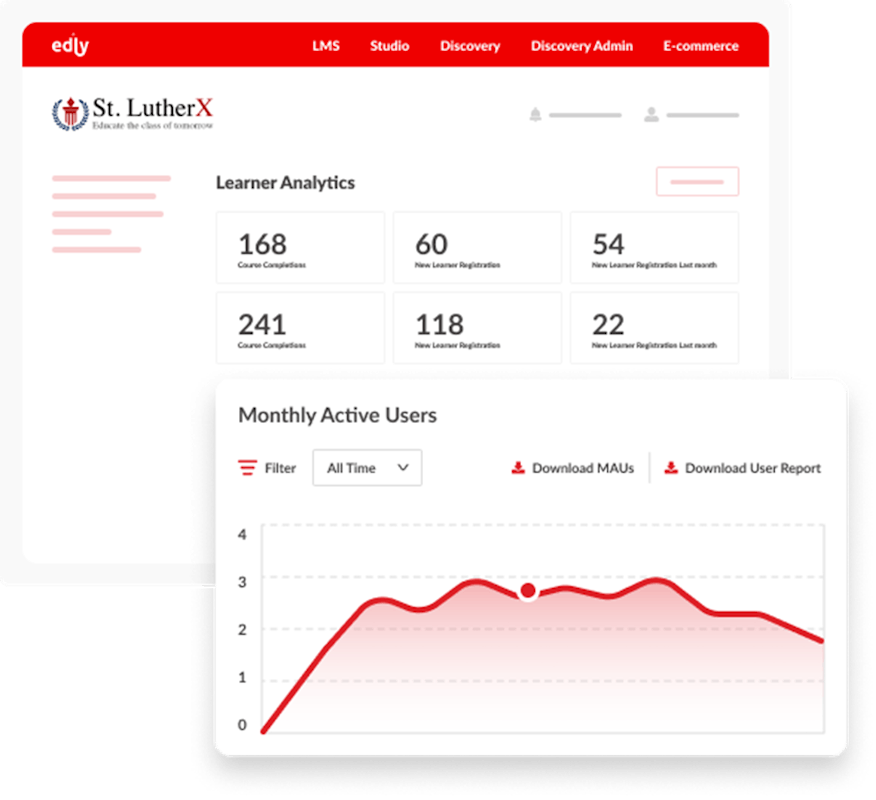 Rating: 5/5 (G2)
Edly is another LMS that delivers responsive, Open edX-powered online education solutions. Several top educators have used the provider's services, including MIT, Harvard, and the University of Cambridge. Edly provides a platform tailored to your unique needs and optimized for user-friendliness and scalability.
Known for their customer service, users like Daniel T. praise Edly for "prompt feedback and user support". However, users like Chris D. lament performance issues and "wish it was an overall faster experience to use."
Course Management
Course management is one of the most powerful features of an LMS. How you organize, structure, and provide access to learning materials will impact the effectiveness of the material. Here is how each tool simplifies managing courses in your LMS.
Appsembler
Appsembler's online training software equips you to create and distribute multiple training courses in one platform, including embedding hands-on software training with Virtual IT Labs.
Virtual IT Labs are a core feature of Appsembler and help the platform stand out among the competition. Using Appsembler's native integration, your cohort can get hands-on software experience. This leads to better product adoption, brand awareness, and learning outcomes for internal and external teams. Build the training experience you need with Appsembler's diversity of APIs and integrations available to you.
Make your training site yours by incorporating as many branding features as you want! You don't have to be a techy to effectively use Appsembler. The responsive LMS design ensures that courses built with Appsembler display correctly on all devices.
Edunext
Edunext's Open edX Studio provides several tools for authoring, adding, and organizing courses or configuring training activities and importing content. Edunext allows admins to simultaneously configure course policies and settings, encouraging collaboration during course building and maintenance.
Edly
The Edly Studio provides a user-friendly tool for building courses quickly. You can add multi-form content and integrate it with Zoom and YouTube to keep your learners engaged. Edly Studio allows admins to create micro and full degree pathways, with options to add certificates for both.
Pricing
Pricing plays an important role in the decision of which LMS to get. Consider choosing a platform that offers pricing tiers and transparently displays them at each level so you know what to expect as you scale. Let's look at the pricing options available from Edunext, Edly, and Appsembler.
Appsembler
Appsembler charges no hidden fees or setup fees. You pay a transparent, flat rate for your preferred plan. We pride ourselves on customer service, and we believe pricing transparency is a part of that! With Appsembler, your options are:
The Starter plan starts at $500 per month. This plan provides you with everything you need to start creating and delivering courses online.
The Pro plan starts at $1,200 per month. This is our most popular plan, with powerful tools and flexibility to grow your training.
The Premium plan starts at $2,500 per month. This plan is built for power users who need advanced features, API access, and support to scale to any size.
Edunext
Edunext offers three solutions – Nimbus, Stratus, and Cirrus. You must contact a sales representative for an accurate quote.
Nimbus offers LMS as a SaaS cloud solution. There are minimal features, with limited scalability.

Free: $0
Basic: $50 paid monthly
Enhanced: $62 paid monthly
Advanced: Talk to Sales

Stratus provides dedicated Open edX solutions for unlimited active learners.

Starts at $25,000 a year. Talk to sales to receive a quote.

Cirrus is a fully dedicated service for large or highly customized education initiatives.

Starts at $50,000 a year. Talk to sales to receive a quote.
Edly
Edly offers a free one-month trial that supports up to 20 monthly active users. After the free trial expires, you can opt for one of 3 plans:
Essentials: Starts at $275 per month for your basic package accommodating up to 1,000 MAUs
Elite: Starts at $300 per month for their most popular plan, which scales up to 10,000 MAUs
Enterprise: Starts at $2,250 per month for advanced features and scaling support and allows for up to 100,000 MAUs
Edly encourages prospective customers to contact their sales team for an accurate quote.
Integrations
Integrations allow a new LMS to enter your organization's ecosystem instead of being created on its own island, thereby improving its adoption rate. Though most LMS platforms offer integrations, tools like Appsembler offer more than others! Let's dive into how each product's LMS integration feature differs.
Appsembler
Unlike Edly and Edunext, Appsembler also offers Virtual IT Labs, which can be fully integrated with the LMS to provide learners with hands-on training in simulated environments. Other available out-of-the-box integrations include Zoom for communication and Illumidesk and SCORM for auto-grading.
Not only does Appsembler offer many pre-built integrations, but they also provide custom integrations through their API and offer SSO, LTI, and Business Intelligence Connectors. And Appsembler's professional services team is right there to assist in using your existing integrations with the platform.
Edunext
Edunext comes prepackaged with WordPress and WooCommerce integrations. The WordPress integration simplifies connecting your LMS to your website, allowing website users to interact with courses. The WooCommerce integration fast-tracks monetizing educational content by allowing users to buy courses on your WordPress website.
Edly
Edly offers several API integrations, including Stripe and PayPal connectors, for monetizing your LMS website. Other integrations offered by Edly to expand your LMS's functionality include WordPress, LinkedIn, Zoom, Microsoft, Google, and Facebook.
Analytics and Reporting
Appsembler, Edunext, and Edly all offer analytics for monitoring learner progress and course effectiveness. However, not all analytics and reporting are the same between platforms.
Appsembler
Appsembler provides real-time insights into the performance and progress of each person partaking in your training program. It accomplishes this with Figures and Insights. You can use Appsembler's Figures to view the performance of courses and students.
Alternatively, Open edX Insights can be used to monitor the number of course views, the percentage of viewers fully or partially completing courses, and more. The insights simplify measuring how engaging and valuable users find your courses and can also help you identify ways to improve your training program to deliver better results.
Edunext
Edunext offers Analytics+ for tracking trainee records and viewing actionable insights in real-time. The tool presents a visual overview of trainees' interactions with your educational material. The real-time insights help you easily understand user behavior and identify areas for improvement so you can optimize your training program. The specific insights provided by Analytics+ include user enrollment, engagement, performance, and learner analytics details.
Edly
Edly provides valuable insights through its comprehensive and intuitive reporting tool. The insights provided by the tool facilitate making data-driven decisions to optimize the creation and delivery of educational content. Some of the performance indicators and learner data you can track with the tool include monthly active users, students enrolled in courses, course completions, and course views.
Appsembler vs. Edunext vs. Edly: Which Is Best for You?
You're at the crux of a huge decision for your organization. Choosing the right LMS that will adapt to your needs, scale with you as you grow, and deliver engaging learning experiences is critical to the success of your online learning program.
So, which LMS should you go with? Only one of these platforms checks all the boxes below:
Integrated virtual labs to deliver hands-on learning experiences
A transparent, predictable pricing model
Dedicated customer support for all customers, regardless of your plan
Comprehensive analytics for measuring learning progress and the return on your LMS investment
That platform? Appsembler.
Appsembler is the best option to deliver a truly learner-centric training program in a comprehensive learning management system. With its dedicated customer success and support team, you have all the tools you need to create a thriving learning system.
Appsembler: Your Team's Solution to Learning Management
Are you ready to set up a virtual training program for your employees, customers, or others? If so, Appsembler has everything you need to exceed your goals with ease. See for yourself by contacting us today to request a free product demo.